Reply.io
Click "REVEAL OFFER", then copy & paste the code at checkout.
Reply.io Discounts – Up To 30% OFF

Up To 30% OFF

_______________

2324 days left.

Visit offer
How To Use Reply.io Discount Code
Click "VISIT OFFER" to activate the deal.
About Reply.io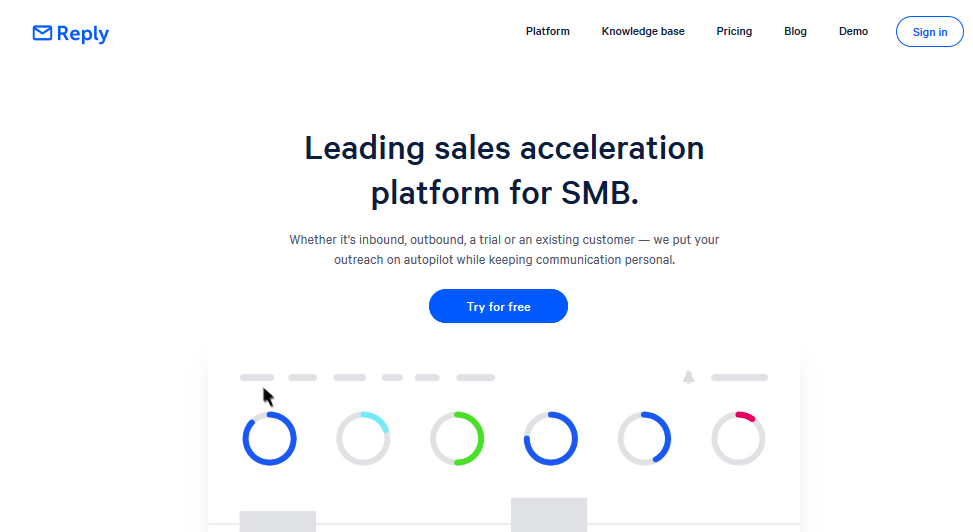 Reply is a powerful email and sales automation tool.
You Can Use Reply.io App For:
Outbound Sales
Inbound Sales
Business Development
Account Management
Fundraising
HR&Recruiting
Reply Benefits:
Reply.io is an automated email system for direct sales which allows to send auto response sales emails. extremely useful for lead generation automation and b2b sales automation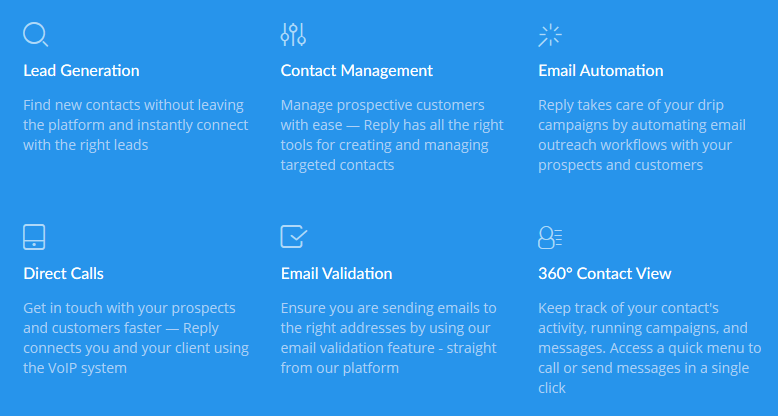 When Email became a major part of sales, it brought with it a big problem. Adding multiple recipients in the 'to' field meant a large outreach with a single click, but the task of populating the field was cumbersome and worst of all, the mails seemed very impersonal.
Reply (reply.io) is a platform that accelerates sales by automating one-to- many conversations giving businesses a massive outreach, but making sure every mail seems personally sent. Companies are leveraging Reply for outbound sales via outreach, inbound sales via threads, HR recruiting, development and more!
Email has become the number one tool for communication and every business relies on it for swift conversations. Building customer relationship via email is marketing's number one strategy. Over the last decade, email has also taken a prominent place in digital marketing, with websites leveraging email for newsletters and subscriptions.
A major advantage of email communication is that it is personal, keeping the conversation one to one. But what happens when you, as a business, have to send out an email to a large group? It is not feasible to draft individual personal emails when recipients are even over 5, let alone sending to thousands.
Reply (reply.io) is aimed at remedying this very problem. Reply works by automating one-to- many email communication, helping businesses grow and scale their outreach to millions, at the same time making sure every mail seems like it is sent only to one, maintaining a personal touch. Inbound mails are smartly segregated into relevant folders keeping responses neat and easy to find. Integrating your business with Reply is extremely easy. With a few simple steps, a contact list can be uploaded, a campaign or newsletter can be set up and sent out to.
Generate Leads With Reply
In addition to using your own contacts, you can use Reply's powerful native engine to look for contacts and information within the platform. Modify your search based on location to locate geographically specific clients, filter your search based on business or even designation and select the contacts from Reply's window. Reply gives you the ability to create and build a contact list that suits your business.
Manage Contacts
Easily manage your existing contacts and those generated via Reply. You can import contacts through CSV, syncing them with all default information or altering contact information as per your need. You can create manual contacts directly in Reply by accessing the address book. Contacts can be segregated into groups for easy access and you can also filter contacts for campaigns, based on personal information criteria. An additional backlist feature allows you to exclude certain contacts from selected campaigns.
Mass Mails with Campaign Wizard
With Reply's campaign wizard, it is simple to set up a custom campaign fully equipped with the message, recipients, and also schedule a time to send. Reply tailors every email to display the recipient's name in the body, so every email sent through the campaign wizard, although mass sent, looks as if to have been sent personally. Using custom variables, it is easy to make emails warm and personal. Reply also allows creation of email templates, so future campaigns can easily be set with no waste of time.
Email Verification
Sending a mass email to multiple wrong email addresses can create a huge storm of non-delivery reports. Reply validates every email, checking for rogue full stops or commas and for errors in the address. Once validation is complete, Reply notifies you so you can go ahead and send the mail.
Smart Conversation Threads
Reply's intelligent response detection feature makes it easy to keep track of conversation threads. This feature detects the subject of replies by analysing key words and sorts them into relevant folders. For example, if you send out a mass mail requesting for clients to attend a seminar, Reply analyses the body of each response and segregates the 'yes' replies from the 'no's'.
Direct Calls
Reply makes it possible to call clients directly through the platform, by setting bridge calls. Reply uses VoIP to call your personal number and then call the client, setting up a conference call. You can also use this feature to call anyone on your contact list.
360 Degree Profile And Campaign
Reply maintains information of every mail and communication that was made, making it easy to keep track of customer interactions. A complete set of activity logs, chat and email history allows you to be up to date when reaching out to clients, improving customer satisfaction.
Integrate With CRM Tool
Reply also easily integrates with CRM tools, like salesforce or Pipedrive, so you can seamlessly incorporate Reply into your organization and integrate it with the current CRM tool. Reply syncs with the CRM tool and fetches contact information and leads.
Tracking Mail Analytics
You can track every mail that was sent via campaign and check delivery status, click, open and response time. You can also track out of office and bounced mails. By analysing what works and what doesn't, you can tailor your emails to get the best response.
Collaborate
With a team page, Reply makes it easy to collaborate with team mates across the organization, see what campaigns are being used, what worked and what didn't.
Email Tool Integration
Chances are, you are currently using Gmail, Mandrill or Microsoft Exchange (Outlook) as an email solution for your campaigns. By using plugins, you can easily import contacts, campaigns and templates into Reply, making integration smooth.
Reply comes in three price ranges, each with a 14 day trial period included: Individual, Business and Market Leader.
Reply Reviews
One-to-Many Made Easy By Reply Email Automation Tool
Reply app's greatest pitch is that sending one-to- many emails is easier than ever before. By utilizing their campaign manager, email automation is made simple. Email templates can be set that are accessible by a few clicks, and recipients can be populated by selecting predefined groups from contacts. This cuts down the entire time consuming process of drafting the email making Reply one of the best email automation software.
I use it to quickly get my messages out to multiple people
Says Matt Fox, a recruiter.
Review source: capterra.com
Lead Generation
One main expectation from mail communication is email prospecting, aiming at converting your contacts to business. Having a large outreach means more contacts which means more business, which every sales email automation tool needs.
Reply's finder tool is great for generating contacts and lead from within the platform. Finder tool allows you to search by company, title designation and with many more filters. Easily add the new leads to your contact list and include them in ongoing mail campaigns.
Increase your productivity: set your campaign and forget it. Add bulk contacts or add contacts as you need. You can send 10 emails with the effort of sending 1. Does away with manual data entry tasks (a godsend for any sales rep using antiquated CRM software!)
– Mitchell Posluns, Account Manager, Hubdoc, Information Technology and Services
Review source: capterra.com
Easy Integration With Mail Servers
Businesses cannot just let go of their ongoing email campaigns and start fresh when looking for a sales prospecting tool. That is why Reply has made it extremely simple to migrate and integrate with SMTP servers like Exchange (outlook) or email applications like Gmail or Fedora. You don't have to worry about losing contacts, mails or any other data.
Easy to use and extremely effective. Their integration with custom SMTP servers and GMAIL accounts were critical for us – and it works flawlessly
says DJ Swanepoel, CEO of Aimtell.
Review source: capterra.com
CRM Integration
Customer Relationship Management tools like Salesforce have become big part of business management and sales improvement. CRM analyses current and past trends to estimate future prospects.
You can integrate Reply with almost every major CRM tool in the market, easily import contacts from Salesforce and push them to your ongoing campaigns. Reply Salesforce integration is well planned and simple, making sales prospecting a breeze.
The platform does not integrate with Hubspot so we had to switch over to Salesforce to realize the full potential of the platform. Aside from that I am very happy with Reply.io
says Elliot who works in Financial services
Review source: capterra.com
Powerful Analytics
As an automatic mail sender, Reply is built to keep a track of every email and conversation transactions. It analyses delivery rates, open rates, Reply rates, interested clients, dropped mails and so on. Along with an overall view, the platform gives individual contact statistics as well, so you have a clear list of interested and uninterested prospect.
By analysing these statistics, businesses can tailor their email campaign and contact list to obtain best results. Reply takes email automation to the next level.
Reply also maintains statistics for your team's campaigns. You can use this data to analyse how effective each member's campaigns are.
Initially, we planned to use Reply just for one campaign, but after two months, we recognized that current service is one of the most suitable for our needs and now several sales departments of our company use Reply every day
says Max Osipov from Sense Asia, food and beverages department.
Review source: capterra.com
360 Contact View
As your business grows, the number of campaigns, emails and conversations multiply exponentially. Keeping track of every client and related conversation is not only imperative for business but also a key factor in keeping clients happy.
Reply's 360 degree contact view arranges every conversation in neat threads and maintains history of every mail, phone call and conversation. This makes keeping a track of leads simple.
I recommend it to my startup friends, and literally go out of my way when I hear them
complaining about following up and people not responding says Christina Hawatmeh,
founder of Scopio, Media Production.
Review source: capterra.com
Customer Support
Reply's customer support team has received multiple, brilliant applauds for their service and support. Available over call or email, their team does whatever it takes to make your collaboration with Reply fruitful.
Overall an excellent product with outstanding customer service – the team has been prompt and helpful with their replies and I look forward to working with them for a very long time says Ed Moyse, Founder, JournoRequests
Reply.io Pricing
Reply comes in three packages, Individual, Business and Market Leader.
Individual:
Single license
14 day free trial,
Contact 1000 people at US$55 per user,
Contact unlimited number for US$90 per user.
Business:
1.
14 day free trial
US$200 for 3 licenses
$70 per additional user
Unlimited number of contacts
Team Collaboration
All features included
2.
14 day free trial
US$300 for 5 licenses
$60 per additional user
1K Finder contacts included
10K email validations included
All features included
3.
14 day free trial
US$500 for 10 licenses
10 user licenses included
$50 per additional user
2K Finder contacts included
20K email validations included
All features included
3. Market Leader: contact Reply team for prices.
Reply.io Contact Details:
Phone  – tel:+18557479953
Email – [email protected]
Facebook – https://www.facebook.com/reply.io/
Twitter – https://twitter.com/olegcl
Linkedin – https://www.linkedin.com/company/reply-io